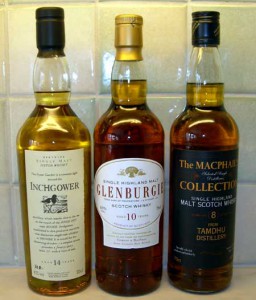 Dagens provning var en fortsättning på tidigare teman bl.a. om pannornas form och destillationsmetoder. Idag var pannhusets mästare eller The Stillman i fokus. Vid destillationen är The Stillman som avgör när det som kallas fore shut är ett passerat kapitel och när den sprit som ska tas till vara (middle cut) börjar och slutar innan the second cut slutligen uppträder. Provningen denna dag koncentrerade sig på brytpunkten mellan middle och second cut och uppdraget var att hitta den som smakade mest skosula, dvs. den whisky som hade största andelen svavelinslag. En schematisk bild av av denna process finner du här.
De som skulle upp till bevis var:
Inchgower, 55 %, 14 år, 768:-
Glenburgie, 40%, 10 år, 489:-
Tamdhu, 40%, 8 år, 445:-
Efter sedvanligt provande, diskuterande och ifyllande av provningsprotokoll så kunde det konstateras att det var svårt att hitta skosulorna eller gränsen till second cut. Det borde ha varit Inchgower som hade stråk av gummi och kemikaliska råvaror i smaken. Mötet kunde dock förenas i åsikten att, om priset inte spelade någon roll, så var det ganska jämt skägg mellan Inchgower och Glenburgie vad smakpreferenser denna kväll anbelangade.
Text: Thomas Normark
Foto: Anders Hallberg