The Grand Bark – bästa kvalitet till lägsta pris utropar Symposion International AB glatt och fortsätter: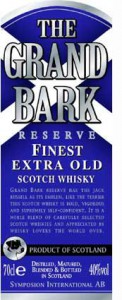 Med det oslagbara priset 208 kronor är The Grand Bark Reserve Systembolagets mest prisvärda whisky.
Låt er inte luras av det låga priser. Grand Bark (art.nr 454) är en ypperlig skotsk whisky som dessutom är mycket läckert förpackad.
Genom en blandning av högklassiga single malts och mjuk sädeswhisky skapas en whisky av hög kvalitet och oslagbart pris.
Namnet The Grand Bark (det stora skallet) kommer från Symposions karaktärsfulla kontorshund Kalle – som också pryder etiketten.
Precis som The Grand Bark är nämligen Kalle en stor personlighet som det ska mycket till för att imponera på. Och vad ter sig då naturligare för Kalle än att ta upp jakten på såväl skotska ripor som amerikanska kalkoner som gjort sig alltför hemmastadda på Kalles revir.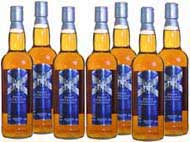 The Grand Bark Reserve
Varugrupp: Blended whisky
Pris: 208 kronor
Art.nr. 454
Lansering: 3 februari
Färg: Mörkt bärnstensfärgad
Doft: Rund och len med inslag av maltsötma, toffee och honung.
Smak: Mjuk och sherrysöt med inslag av ljunghonung, choklad och en lätt antydan av rök.