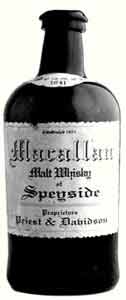 The Macallan följer upp succén med att återskapa över 100 år gamla whiskies. Förra årets lansering av The Macallan Replica 1861alla flaskor som tilldelades Sverige sålde slut.
Nu lanseras nästa årgång, The Macallan Replica 1841, vars förlaga man lyckades ropa in på en auktion för två år sedan. När flaska öppnades kunde man konstatera att whiskyn var av mycket god kvalitet. Därefter har Macallan arbetat med att få fram en liknande whisky.
Replikan är buteljerad i en exakt kopia av originalflaskan och dess etikett och finns nu att köpa via Systembolagets beställningssortiment. Priset är 1 450 kronor och varunumret 70216. Sverige har tilldelats 300 buteljer.
Källa: Maxxium